Stag/Hen Parties
Dodging the opposing teams' arrows and getting all Robin Hood on 'em, you'll fight for honour, for friendship but mostly for a bloody good laugh! Dodge an arrow and if you're really cool you can catch an arrow as it hurtles towards you and take out one of your opponents with their own arrow. Because you're just that cool!
This is a great team activity that you will really get into; fast, active and with a fighting competitive edge that's sure to get everyone laughing, ducking for cover and screaming their own bizarre battle cries "Eat my arrow you …….!"
Archery Tag® Stag/Hen Party
Archery Tag® Stag/Hen Parties last for 2 hours. The party starts with a safety talk and demonstration and then each participant is taught to shoot a bow safely and correctly and then we just jump straight into game play. The first round involves no game rules so players can get used to shooting, dodging, ducking and catching the arrows; then the games commence.
If you would like more time we can start off with some regular archery before the Archery Tag® and we can also add duelling, aerial discus shooting, popinjay and/or soft archery mini games.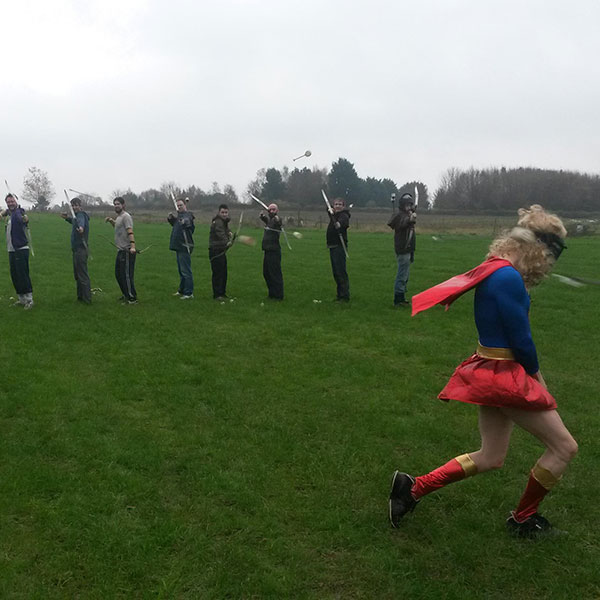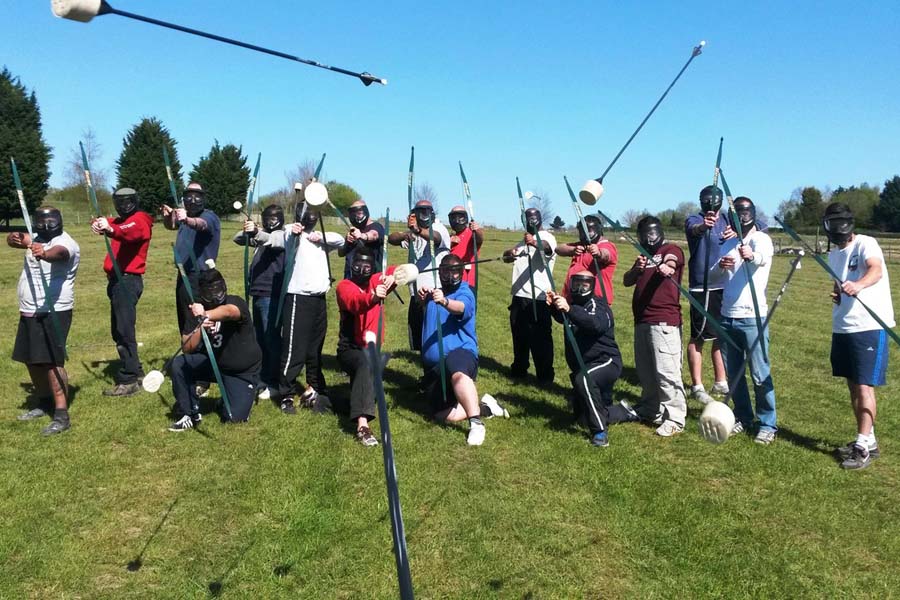 Testimonials
Joshua came and ran my daughter's 12th birthday. Despite incredible odds of trying to gain the attention of twelve chatty pre-teens he managed to get them interested and engaged. A really successful and easy party. Am seriously considering doing it again for my younger kids.
The Archery Tag party you organised for my son was a great success with everybody; kids loved it and parents got equally excited about it. The instructor was very professional and fun. My son's comments: "The best party ever but too short (nearly 2 hours!!). His younger brother (a couple of months too young to take part), who was sulking on the side-lines on the day, has already requested the Archery Tag party for his Birthday. So we will be back and definitely recommended to others.
We had a great birthday party with Discover Archery. We were recommended archery mini games and this was just the right level for the 7 and 8 year olds in attendance. All the children really enjoyed themselves and so much so that the grown-ups decided to have a go, too. Every aspect was well organised and just as described. We would thoroughly recommend to others for a different and active party.
Just wanted to say a huge thanks for the weekend - true to your word - Archery Tag is brilliant, high energy fun! Everyone loved it.
I just wanted to write to thank your staff for an excellent Archery Tag party. All the boys (and 3 girls!) had an amazing time and the atmosphere was fantastic. Your staff did a great job and kept them busy, entertained and interested throughout. A huge success and they're all still talking about it today at school ! I've had lots of lovely messages from other parents saying how much their children had enjoyed it.
My 12 year old son and a friend has a joint Archery Tag party located at Sutton Green Garden Centre. Everyone had a brilliant time! The Instructor gave very clear instructions and encouraged the children (and adults) to develop great technique whilst having bags of fun. The variety of games kept it interesting and we were blessed with gorgeous weather. It was a delight to be outside doing such an activity and to know it was so safe. The arrows really don't hurt. I would thoroughly recommend it as a party activity for all ages.
Thank you so very much for a fantastic Archery Mini Games party. My son had a great time and said it was 'The bestest party ever'.
My son had his 10th birthday party with Discover Archery and he and his friends absolutely loved it. There was lots of running round and playing games which revolved around the archery. The instructor they had was very good, he had lots of fun with the kids whilst also keeping it disciplined. The kids all had a great time and they didn't stop talking about it afterwards. My younger son has requested it for his birthday party next year so we'll definitely be using them again.
All archery and Archery Tag® parties must be booked in advance
Safety
Waivers are required to be signed before any archery or Archery Tag activity. If you are under the age of 16 the waiver will need to be completed by a parent or legal guardian.
We have comprehensive risk assessments in place for each activity and £5 million public liability insurance.
A Coach/Marshall will be provided for the full session to run the activity, ensure safety rules are being adherred to and also to provide ongoing supervision and coaching.
If a Discover Archery Ltd's Coach/Marshall considers any participant to be unsafe, or, if they purposfully mistreat or abuse the equipment or any other participant, they will be permanently removed from play – no refund will be given.
Noone will be allowed to participate if they are under the influence.