Hire Discover Archery for your next party!
Are you looking for something new, different, safe and fun for your next party?
Are you bored with Nerf, paintball and pool parties?
Welcome to the 21st century……archery has evolved!
Archery Tag® Childrens Party
Archery Tag® Children's Parties last for 90 minutes and are suitable for children aged 8 years and up. The sessions starts with a safety talk and demonstration and then each participant is taught to shoot a bow safely and correctly. At all times the group will be supervised by a fully trained Marshall who will ensure safety rules are adhered to, provide ongoing technique correction and ensure free flowing game-play. Each game lasts 4 or 5 minutes then another game is played or new rules are introduced. Games include Dodgeball, Hunger Games, Sudden Death and Agincourt; to name just a few.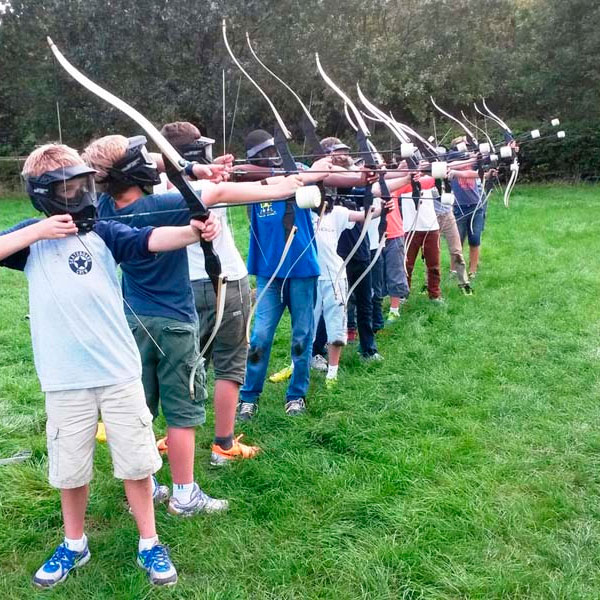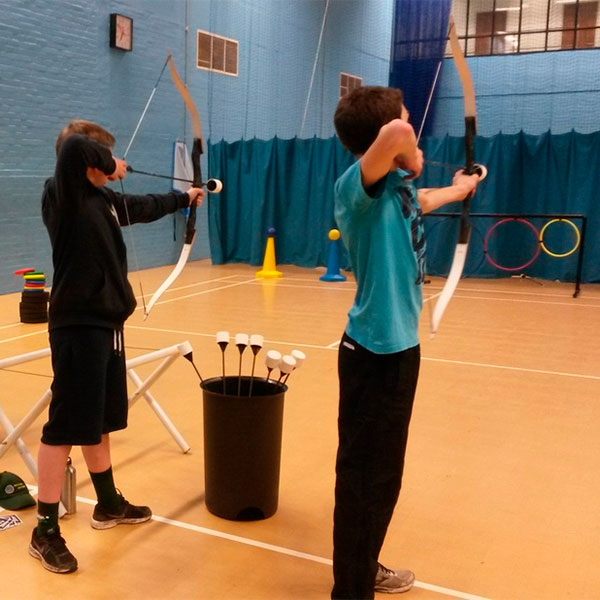 Soft Archery Games
Ideal for all ages, starting from 7 yrs and lasting for 90 minutes, the soft archery games are a fun selection of games which use the soft foam tipped arrows to shoot over, under, through, into and at a variety of different obstacles. After a brief safety talk the Coach will teach everyone how to aim and shoot and then introduce such games as 'Shoot The Hoop', 'Tin Can Alley', 'Clout', 'Balance Ball', 'Discus', 'Drop Shot' and 'Rabbit' and more.
Archery Party
Archery Parties are suitable for people aged from 9 years to adult and last for 90 minutes. The party will start with a safety talk followed by a demonstration. Each participant will be taught how to aim and shoot safely and different games will be introduced, all the while under the constant supervision of a fully qualified Archery Coach who will also provide ongoing technique correction. The session will conclude with balloons pinned on the target and a scored competition. Finally, after lots of posed photos, we invite all the archers to write a message on one of the target faces which the Birthday person can keep as a memento.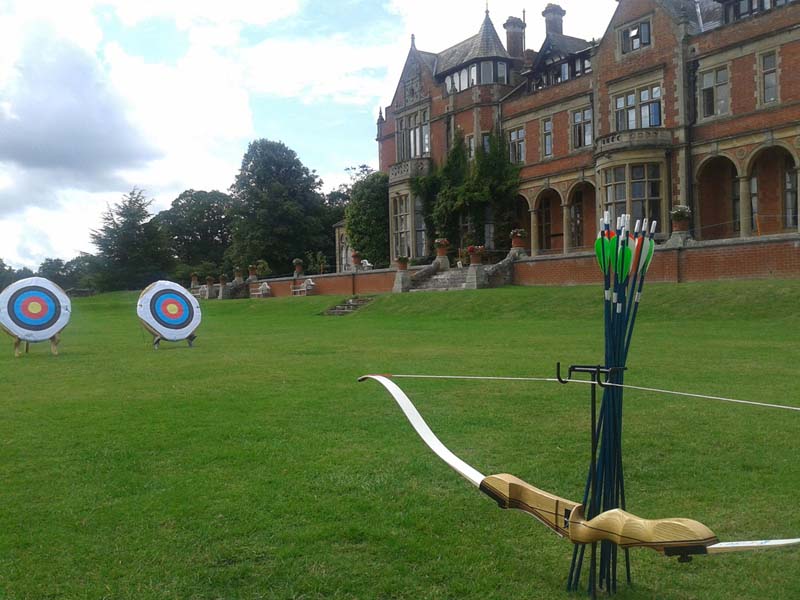 Testimonials
I just wanted to write to thank your staff for an excellent Archery Tag party. All the boys (and 3 girls!) had an amazing time and the atmosphere was fantastic. Your staff did a great job and kept them busy, entertained and interested throughout. A huge success and they're all still talking about it today at school ! I've had lots of lovely messages from other parents saying how much their children had enjoyed it.
Joshua came and ran my daughter's 12th birthday. Despite incredible odds of trying to gain the attention of twelve chatty pre-teens he managed to get them interested and engaged. A really successful and easy party. Am seriously considering doing it again for my younger kids.
We had a great birthday party with Discover Archery. We were recommended archery mini games and this was just the right level for the 7 and 8 year olds in attendance. All the children really enjoyed themselves and so much so that the grown-ups decided to have a go, too. Every aspect was well organised and just as described. We would thoroughly recommend to others for a different and active party.
The children had an amazing time. the Discover Archery team were extremely professional, had amazing banter with all the children which made for really getting the most out of the experience. The afternoon ended with some 'Dodge Arrow' which was definitely the cherry on the cake. We can highly recommend Discover Archery ...for kids of all ages!
Just wanted to say how much we all enjoyed your archery mini-games for my 70th Birthday last Saturday.  Much to some people's surprise! We thought the games were fun and that you were very good at explaining and running the session in a professional and approachable manner. Thankfully, the weather was good too. We would love to do it again sometime!
I just wanted to write to say a huge thank you to Joshua for such an amazing Archery Party that we had for my son's 8th birthday on Saturday. The kids all had a brilliant time and the parents have said that they have not stopped talking about it. They had a lot of fun and learned some new skills. My son felt really special and had a great time. Thank you Joshua, we will recommend you and Discover Archery to our friends and family.
Thank you so very much for a fantastic Archery Mini Games party. My son had a great time and said it was 'The bestest party ever'.
My son had his 10th birthday party with Discover Archery and he and his friends absolutely loved it. There was lots of running round and playing games which revolved around the archery. The instructor they had was very good, he had lots of fun with the kids whilst also keeping it disciplined. The kids all had a great time and they didn't stop talking about it afterwards. My younger son has requested it for his birthday party next year so we'll definitely be using them again.
All archery and Archery Tag® parties must be booked in advance
Additional Information
Discover Archery Ltd's Coach/Marshall to participant ratio is 1:12.
If there are more than 12 participants an additional Coach/Marshall is required.
Participants must be a minimum of 9 years old to play Archery Tag®.
We ask that if there are participants under the age of 16 years that the party organiser be available at all times to supervise.
Safety
Waivers are required to be signed before any archery or Archery Tag® activity. If you are under the age of 16 the waiver will need to be completed by a parent or legal guardian.
We have comprehensive risk assessments in place for each activity and £5 million public liability insurance.
A Coach/Marshall will be provided for the full session to run the activity, ensure safety rules are being adherred to and also to provide ongoing supervision and coaching.
If a Discover Archery Ltd's Coach/Marshall considers any participant to be unsafe, or, if they purposfully mistreat or abuse the equipment or any other participant, they will be permanently removed from play – no refund will be given.
Noone will be allowed to participate if they are under the influence.