Bespoke Corporate and Team Building Events
A truly great team building day or corporate event should make every single employee feel like a superhero! Release your inner Robin Hood  as we offer an exciting variety of archery related activites allowing you to discover hidden talents, develop new skills and unleash your true potential.
We can tailor the day to suit your needs and your budget. Come to our outdoor venue where you can play Archery Tag®, shoot at aeriel discs or even play Archery Golf. Alternatively, we offer bespoke packages where we can hire a suitable venue with food and conference facilities, as required. You can play Archery Tag®, have a hog roast or we can hire in any activity you require from our list of approved suppliers.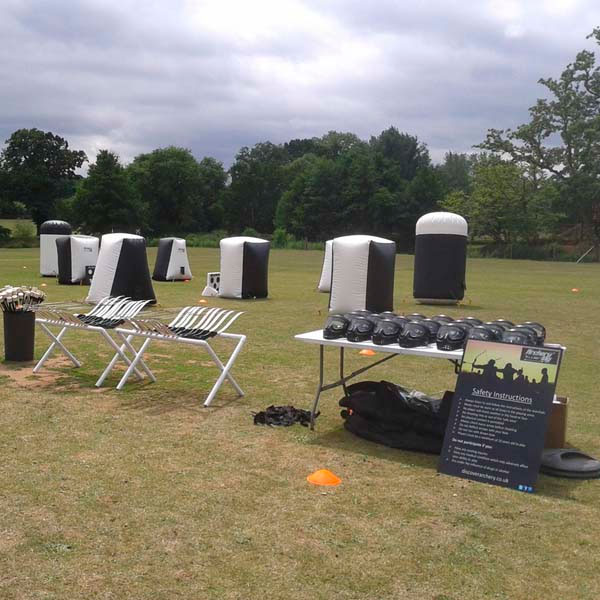 Testimonials
Archery Tag made for a really great team outing, and I got loads of positive feedback from everyone that attended. Joshua and team handled all of the logistics of setup/teardown and seamlessly coordinated with the venue.  We just had to show up and play!
Just wanted to write and say thank you for putting on a great event. My ladies all loved it and those couldn't make it were thoroughly jealous. It certainly allowed the ladies to bond more and have fun. We are already looking at plans to get other events booked in with you.
This is possibly the coolest activity around, everybody thoroughly enjoyed it and I would definitely recommend everybody give it a go.
A well organised and good team building event.
Harness your inner Robin Hood and give this a go. It's one of the few activities we have done as a company, where the girls have an equal chance to hit the gold. Haha! Exhausting but brilliant fun!
Discover Archery provided a fun, engaging and interactive half day Archery Tag® session for the BNI Surrey support team. The event was meticulously planned and Joshua's experience and expertise really shone through. Our team had a fantastic time and thoroughly enjoyed the day. I am very happy to recommend Discover Archery to any company looking to promote team bonding within their company.
We all had a great time and the session was run in a safe and organised way, we come back every year. Great experience to get people working together and having fun. Would recommend to anyone.
Great afternoon teambuilding activity. We had some reluctant people at the beginning but the instructors and the laughs we had playing encouraged everyone to join in. Great instructors that made all the difference to the day. All the staff are still talking about it now. Great Team, Great Memories, Thank you Joshua and team!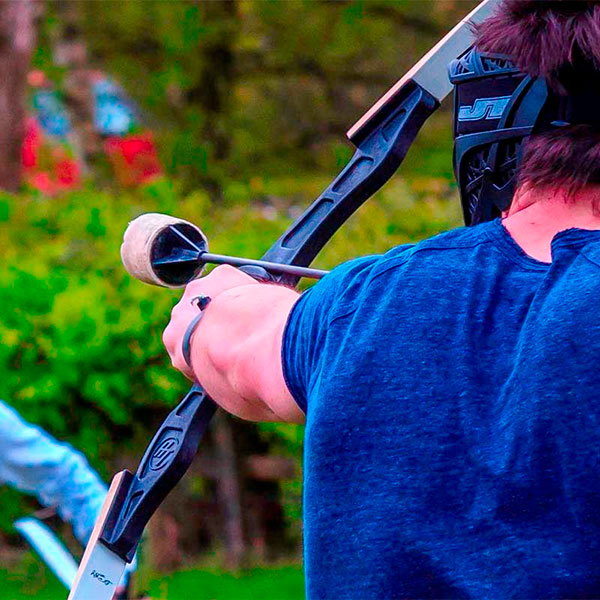 Archery Tag®
The Archery Tag® event can be tailored to meet your specific requirements and can last for as little as 90 mins or for the whole day. No previous archery experience is required to enjoy our events. Each session starts with a safety talk followed by a demonstration and then each participant is taught how to shoot. Once the participants can show that they can shoot safely and competently then the games will commence.
This is a great team activity that everyone will really get into; fast, active and with a fighting competitive edge that's sure to get everyone laughing, ducking for cover and screaming their own bizarre battle cries of "Eat my arrow"!
Archery
The archery event can be tailored to meet your specific requirements and can last for as little as 90 minutes or longer. Each session starts with a safety talk and demonstration and then each participant will then show that they can shoot safely under the supervision of the qualified archery coach. Participants will be taught how to aim and once everyone is shooting competently a variety of fun games will be introduced.
Alternatively, the inflatable Hoverball Target Set is so versatile it can be used in virtually any environment. It can be set up safely inside or outside and only requires a small area of space. This is a great way to get lots of people to have-a-go in a short space of time using the soft foam arrows.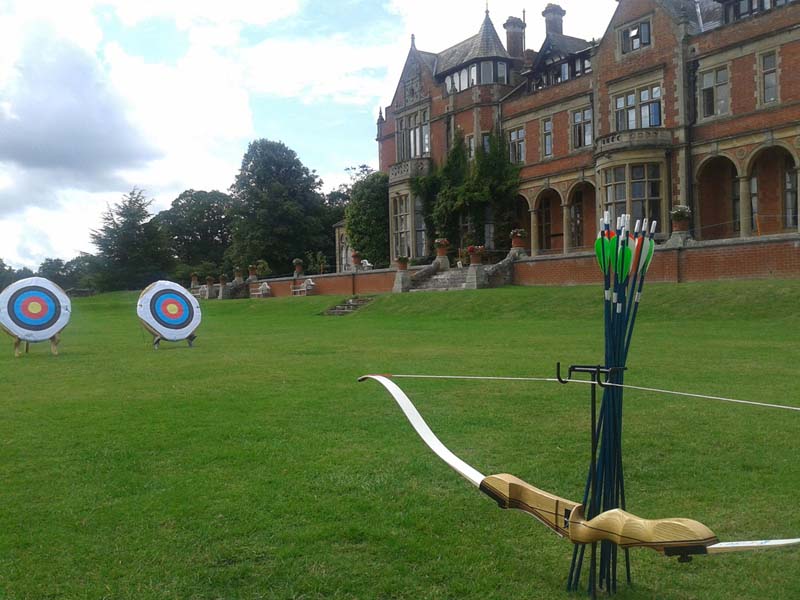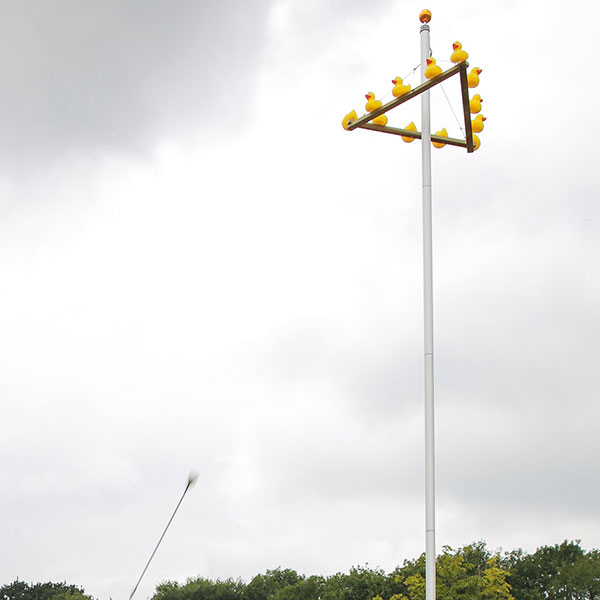 Popinjay
Another ancient form of archery, the object of popinjay is to knock artificial birds off their perches. The archer stands near the base of the mast and shoots foam tipped arrows upwards at the targets. This is direct descendent of the practice used by longbow men on ships in port in order to maintain their skill.
Soft Archery Games
The archery games are a new concept in archery games created here at Discover Archery. Using the soft foam tipped arrows we can shoot over, under, through, into and at a variety of different obstacles.
The games ideal for team building with small groups, as an additional activity at an event or for use where the area is too small for traditional archery. Some of the games we would play are 'Shoot The Hoop', 'Tin Can Alley', 'Clout', 'Balance Ball', 'Discus', 'Drop Shot' and 'Rabbit'; to name a few. We can also use the environment to create new games.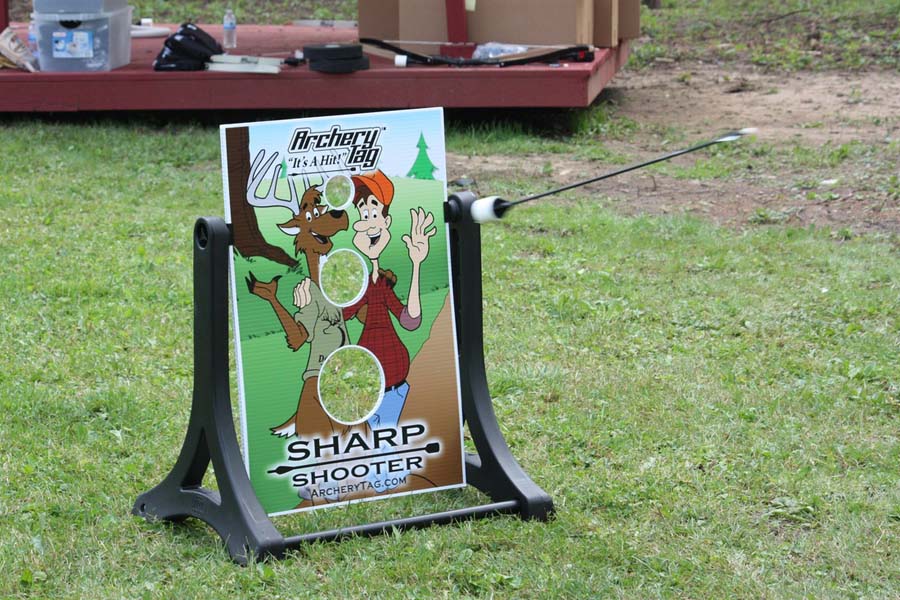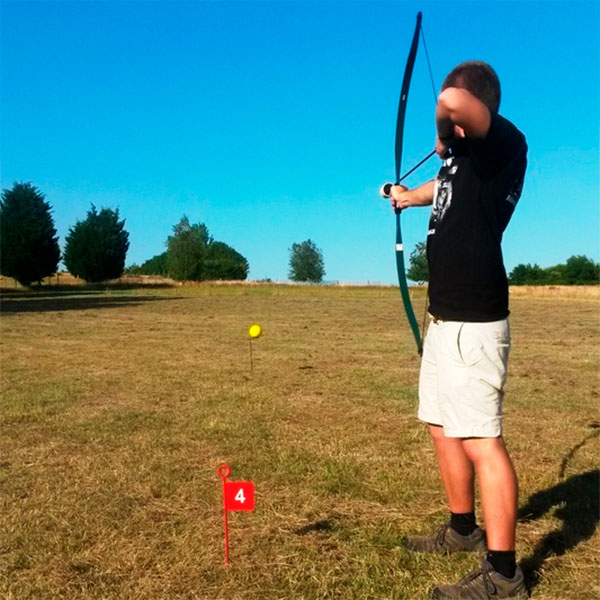 Archery Golf
Yes, you did read it correctly, Archery Golf! Using the soft foam arrows we can set up a golf course in a field with the aim of knocking a ball off a hoop instead of sinking a ball. Or, alternatively, we can use a golf course and once on the green you can put a ball where the arrow landed and finish with a putter. A great activity in itself or as an addition to any of the archery activities we provide.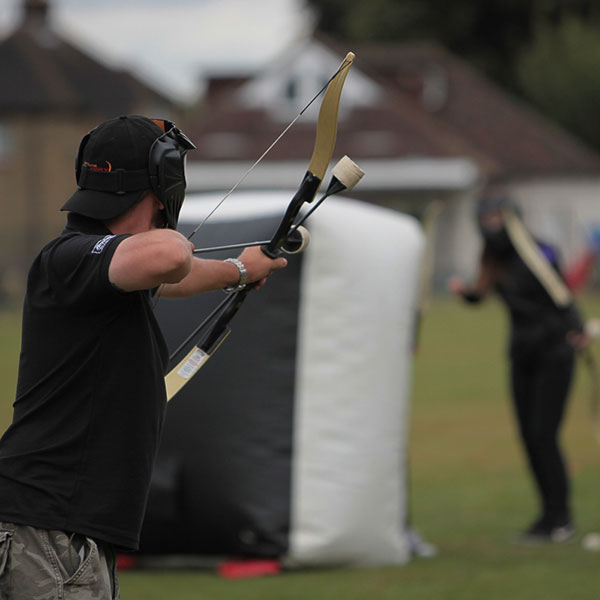 Our services are available for: