Archery is a great for schools
Discover Archery Ltd provides a mobile archery service which comes to you with all the necessary equipment and experience and offers high quality instruction from a team led by an ArcheryGB qualified coach.
Archery is a great sport for schools and is open to all able bodied and disabled students. Besides being fun and learning a skill for life, archery teaches discipline, patience and focus, it improves physical health and general fitness and can give the student a strong sense of personal achievement.
We can provide a teaching programme to suit your school's needs or we can deliver our standard Introduction to Archery Course. These can be run as part of the curriculum or as a school club.
We coach archery to primary and secondary school pupils within the guidelines recommended by Archery GB.
Examples of what we offer: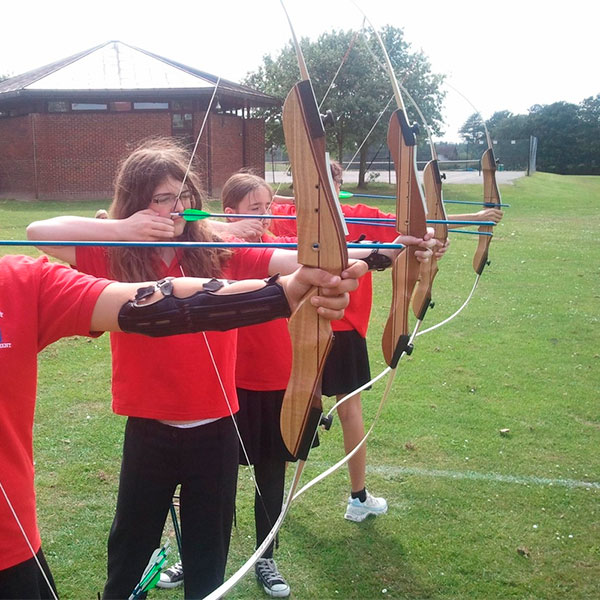 Testimonials
Discover Archery provide well organised sessions which are both fun and informative. Archery is a perfect opportunity for pupils of the school to experience and practise a new physical activity.
The boys at Aldro revelled in the fun of Archery Tag and we were all impressed by the excellence of the staff and equipment.  Needless to say, some boys best memory of the year will be shooting their teachers... thankfully the arrows don't hurt!
We have been really pleased with the service offered by Joshua and Discover Archery. They attend the school on a weekly basis to provide an instructional archery course – the professionalism and level is totally appropriate for the 15 year-old students. We have also thoroughly enjoyed the Archery Tag® sessions which have proven to be an imaginative and fun way of learning more about this sport. I can highly recommend!
Thanks again for the Leavers event at the weekend. Everyone had an amazing time. I've had parents, teachers and children come up to me today saying how much they loved it.
Many thanks for constantly providing an exciting and exhilarating activity for our girls. It is always a very successful event that helps get our students bonding from the outset. A perfect icebreaker to start the term.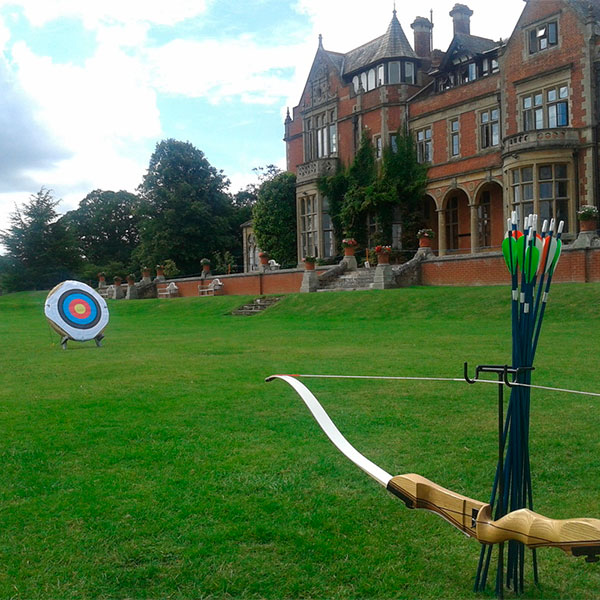 As well as one-off taster sessions we run progressive courses lasting from 6 to 12 weeks. Each course starts with a safety talk and demonstration and then each participant will then show that they can shoot safely under the supervision of the qualified archery coach. Over the course participants will be taught how to aim properly and how to hold the bow correctly, they will be shown how to string the bow and will learn to name the parts of the bow and arrow. A wide variety of games will be introduced to keep the participants interested and to make it fun.
We offer the option to shoot indoors, if the venue is suitable, with the support of heavy duty archery netting behind the targets to catch any stray arrows or, weather permitting, many schools have fields which are of an appropriate size. If we shoot outside a minimum area of 120yds by 50yds is mandatory according to the ArcheryGB 'Rules of Shooting'.
Archery Tag®
We have a growing list of schools who use our services for Archery Tag®. We have provided Archery Tag® for Enrichment Days and Sports Days and as an extracurricular activity for students, teachers and boarders and also as a regular weekly activity.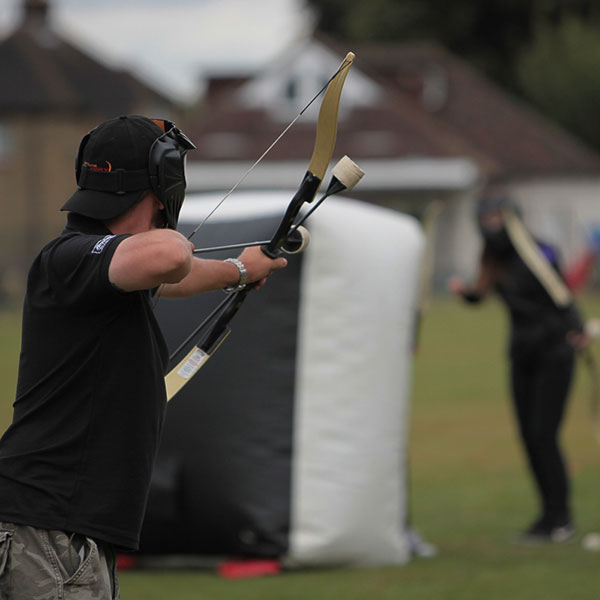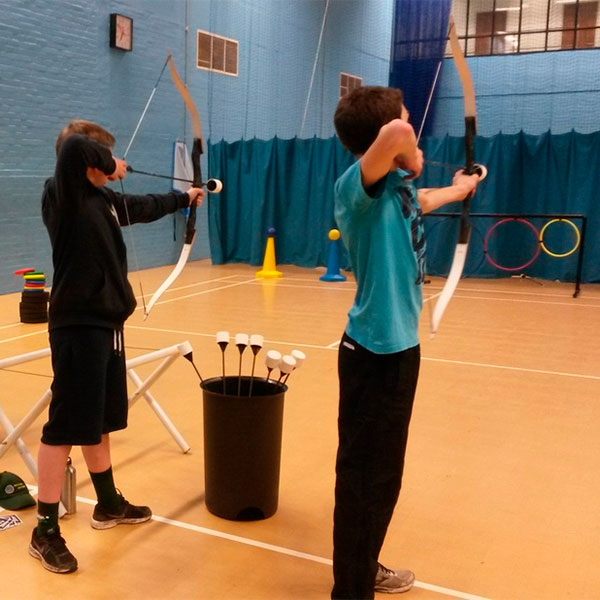 Soft Archery Games
Archery Games are a selection of games which use the soft foam tipped arrows to shoot over, under, through, into and at a variety of different obstacles. This is a new concept in archery games created here at Discover Archery.
This exciting new concept can be used as a one off activity, as part of a larger sports day or we can run a course for primary aged children just using the soft foam arrows whilst teaching them all the concepts for regular hard archery.
When we run an archery course we will always include the games in one of the sessions allowing the students to put their new skills to the test by shooting through hoops or at flying aeriel discs. We can also use equipment from the P.E. store or use the environment to create new games.
Some of the games we would play are 'Shoot The Hoop', 'Tin Can Alley', 'Clout', 'Balance Ball', 'Discus', 'Drop Shot' and 'Rabbit'. We can also use the environment to create new games.
Hoverball Target Set
The inflatable Hoverball Target Set is so versatile it can be used in virtually any environment. It can be set up safely inside or outside and only requires a small area of space. This is a great way to get lots of people to have-a-go in a short space of time. This Target Set is ideal for Sports Days, Fetes or Fund Raisers.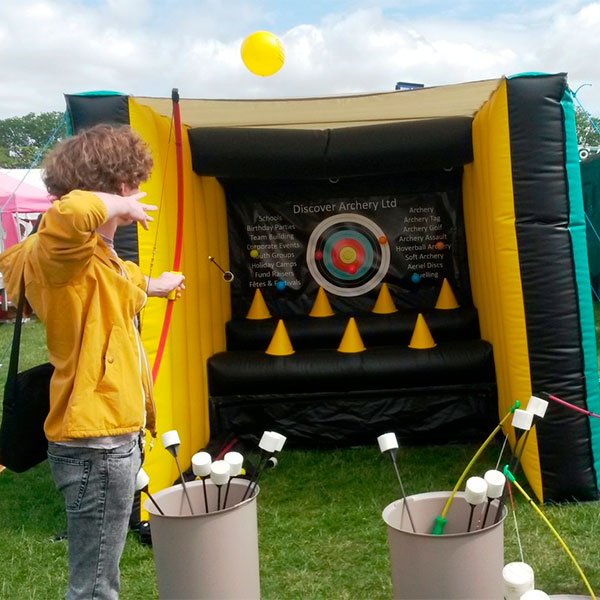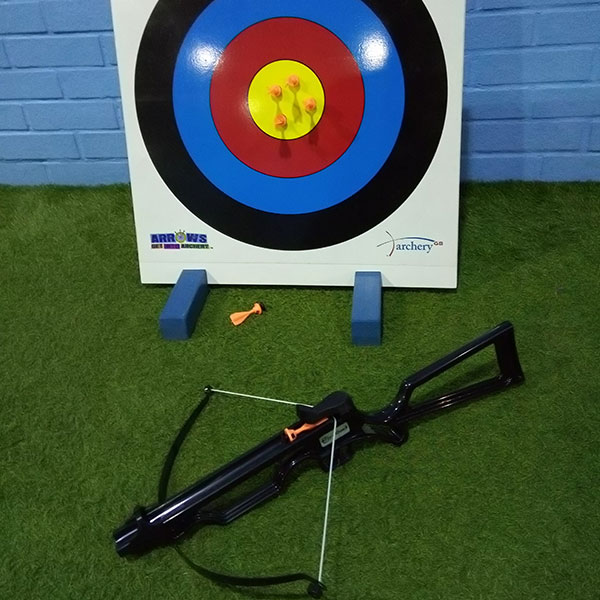 Crossbow
As part of an archery or soft archery course we also take one session where we introduce crossbows. The bows we use are very lightweight toy bows which shoot little sucker darts. Very safe and lots of fun, another way to give a new experience and teach safety aspects to children in an enjoyable controlled manner.
'Mini' Archery
This Archery GB endorsed 'mini' version of archery uses arrows with special suckers instead of points making it a great way to introduce archery to young children safely in virtually any environment.
It possible to introduce archery concepts and skills through fun activities rather than technical instruction. Also, these activities enable us to use archery as a way of encouraging learning in other areas; for example, maths through scoring and literacy through language, developing movement skills i.e. coordination, balance and strength as well as personal, social and mental skills.
This kit is aimed at participants aged around 6 – 10 years and is ideal for use inside or out, whether at school or at home.